Be a Dominatrix!
Beat and humiliate guys, and make great money working with cool people. If you know a better job description please let us know:-)
What we need
We are looking for beautiful, competent women willing to work alongside some really cool professional sisters (no guys work here). Being a Dominatrix is totally legal, fun and very lucrative.
You don't need to be experienced but you will not be allowed to session until you have had training (paid) and we are sure of your competence. No drama, no sex, no "extras", no bullshit.
Great workplace
We are located in Chinatown NYC. A safe, cool neighborhood and we have the best security and client screening of any Fetish Play Space in the USA. Super clean, fantastically equipped facility with open WiFi- bring your laptop and finish your school work or surf between sessions.
Base salary for full time employees
We are the only Dungeon in the US that guarantees a basic living weekly wage to full time employees. If we can't book you clients that's our fault not yours- and we pay for it. You will never have a "bad week" and go home with little or nothing.
No sitting on the couch waiting for walk-ins
We ONLY accept advance appointments. You tell us the days and times you are available, we'll contact you detailing the day, time, room and general theme for all of the sessions we have booked for you that week. You will NEVER be asked to waste your time sitting around waiting for walk ins. The more hours you are on call the more you will make, but you never need to come in unless it is to session with a client.
Real training
We'll help you turn your dominant pleasure into your profession. Safe and effective technique, popular themes and interactions, best practices- and more. We'll even pay for your Red Cross CPR, First-Aid, AED certification. We have not made it mandatory yet but most of our Dommes have it and it's a very good idea for anyone in the business.


Interested?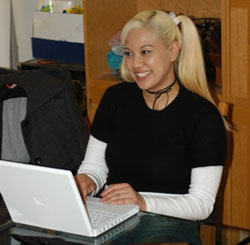 Email Jessy Kang aka Mistress Kang Owner/Manager NYC Fetish Fortress [email protected]